Easter at Cressa Ghitonia Village!

Cressa Ghitonia Village invites you to celebrate the Holy Easter feast and experience Cretan traditional celebrations!

In Cressa Ghitonia, following the spirit of the Greek Easter, on Holy Wednesday we knead delicious Easter buns in the Iris restaurant, while from the morning of Holy Thursday we learn how to paint eggs naturally. Our guests can attend the daily afternoon and evening church celebrations, and on Holy Friday they can experience the solemn atmosphere in the candlelight alleys of Sfaka, following the epitaph in the neighborhoods of Sfaka.

Discover the mystic and simultaneously glamorous atmosphere, accompanied by the candles of Holy Friday and the sweet smell of freshly baked buns! On the eve of the Resurrection we become part of the village by "burning Judas" and watching the fireworks. On Easter Sunday we celebrate all together under the olive trees of our garden, with Cretan lyre and traditional "mantinades"!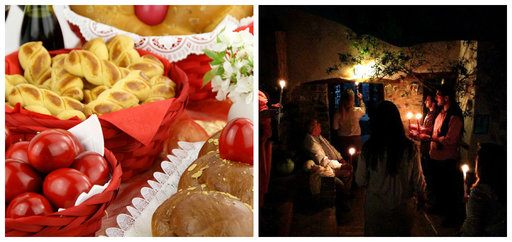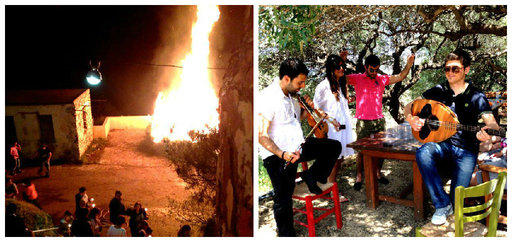 Your Easter vacation will become a dreamy experience when greeted with special delicacies and raki upon arrival. Enjoy a delicious complimentary Cretan breakfast daily. Discover the mysteriously radiant atmosphere from the flickering candles on Holy Friday and the sweet smell of freshly baked pastries! See below analytically or Eastern activities:

- Preparation of "Tsoureki" - traditional product like cake (Wednesday 8/4)
- Painting eggs naturally for Easter (Thursday 9/4)
- Epitaph ceremony in the neighborhoods of Sfaka with candles and "tsikoudies" - traditional local custom (Friday 10/4)
- Traditional Lunch & Dinner (Friday 10/4)
- Resurrection eve & "burning" of Judas - traditional local custom (Saturday 11/4)
- Traditional Easter dinner in the evening (Saturday 11/4)
- Twinge of lamb on Easter Sunday & Live cretan music (Sunday 12/4)
- Mass at church every day (Optional)

Live memorable moments and benefit from our specially created Easter package!
See more for our special Easter package in the "
Offers
" section.